12 Best Local Food From The Heart Of Sikkim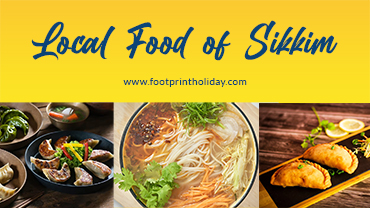 12 best local food from the heart of Sikkim
When cuisines from multiple ethnicities come under one umbrella, what we have is a feast of the gods.
Sikkim is one such place in India where you cannot miss out on indulging your taste buds in the local delectable dishes from all its corners. All its dishes are so pure in ingredients and rich in culture from India, Nepal, Bhutan, and Tibet that bringing out the authentic taste of all its food is never a question mark.
No wonder! It takes pride in being the only organic state in India.
So, here is a checklist of some local food items that you must try to make your travel stories even more exciting and worth it.
Thakhali Thali
- A king-size traditional lunch in the hills, that reminds you of Ghar ka khana cannot be anything else but the thakali thali. By the name, you must be wondering, do people get tired of relishing this thali? Yes, your fingers can get tired because you won't stop licking them. Let's go by the traditional names Daal, bhat, bhuteko karela, papad, Gundruk Sadeko, saag, aloo, masu ko jhol, dahi and Achar. Oh so! Colourful and homely when served on bell metal utensils. Do not miss out on savoring this nostalgic thali on your next visit to the hills. Where to hit- Hamro Bhansa Ghar
Momo
- Momo has now gained popularity at every food joint worldwide. Hold on! When it comes to having a plate of momo from one of the local kiosks in Sikkim it's an unmatched feeling. Be it, veg or nonveg, the taste of culture with a merge of local vibes calls for another plate. Surely, you can take the momo out from Sikkim, but you cannot take Sikkim out from its Momo. Have you tasted Jhol Momo yet? Share with us your experience. It is a must-try when you're traveling to Sikkim. Where to hit- Momo. co
Thukpa-
When minimalism and simple food meet, the taste is doubled for any food. On a cold wintery evening, seated at one of the local shacks in Sikkim amongst group friends or family, facing an unfiltered view of shimmering mountains with a bowl of hot steaming soupy noodles sautéed with shredded chicken or diced potato and garnished with chopped onions, green chilies, and coriander dinner is sorted. You can even add poached eggs for a more filling stomach. Time to spread warmth and love over this spicy and tangy dish Thukpa.Where to hit- Lil Tibet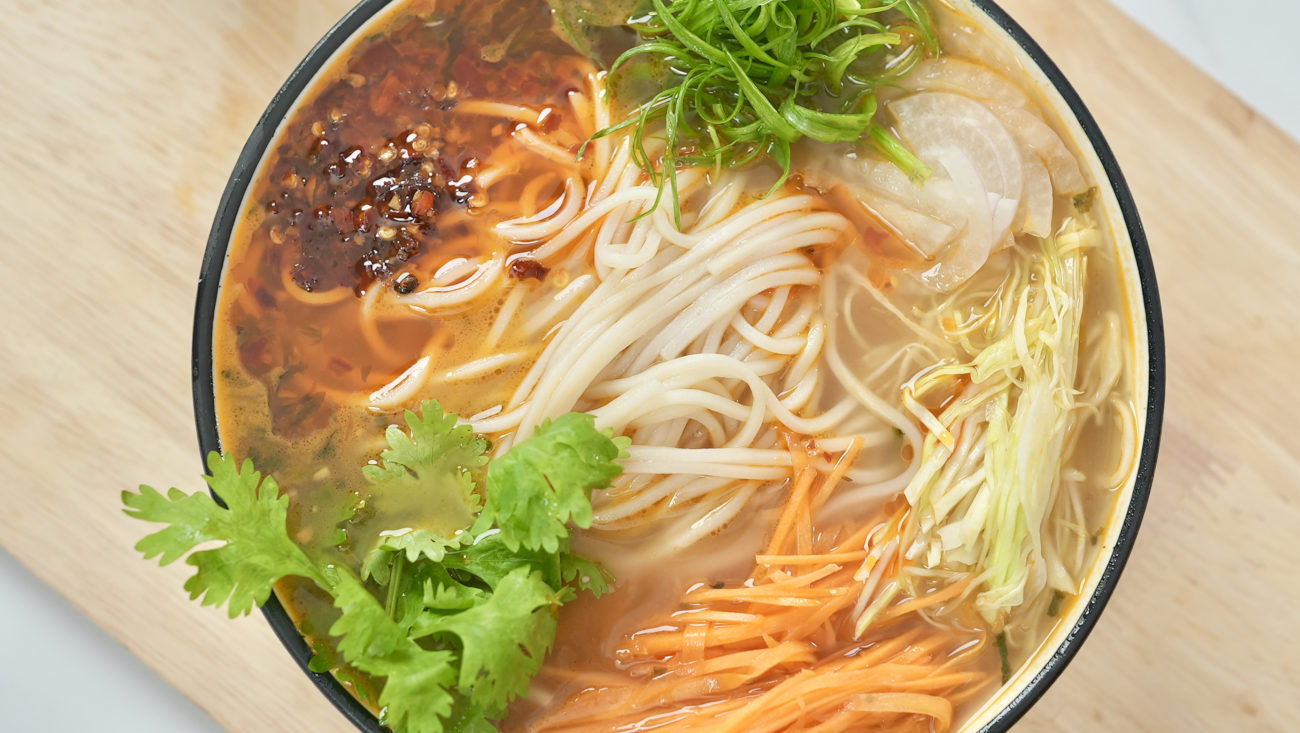 Tibetan tea and Khapse
- Some days we can keep it light over a cup of tea and cookies. Unlike coffee, a lot can happen in Sikkim over a cup of salt tea. They have a lot of variety from salted as well as sweet on a platter. The weather here is so incomplete without a mesmerizing view and a cup of Tibetan tea. This tea is also known as butter tea. The combination of butter and tea is regarded to give greater mind-body balance. One can also club it with Khapse, a popular traditional cookie with a mix of both sweet and salty tastes. Let's keep your chai khaja thora meeta thora namkeen. Where to hit- The Local Cafe
Shyaphaley
-You have to add on to your cheat days when on a holiday especially when you come across such tempting food. Unlike the Samosas from the plains, an evening get-together in Sikkim demands Shyaphaley. You can call it the local pie here stuffed with fillings such as ground beef, boneless chicken, or vegetables and deep-fried. Let the calories take a backseat when shyaphaley makes you happy. Don't forget to double the taste with local churpi ko achar (spicy cottage cheese pickle). Where to hit- The Yellow Cabin
Sel roti-
Sel roti is one of Sikkim's most popular festive dishes. If you are fond of sweets then there is no way to escape a bite as they will be available in all local food joints. It is a ring-shaped coiled roti made from flour and ground rice. The making process is tedious so don't forget to pack some for home. Have it with local Aloodum when here and enjoy the WOW factor wholeheartedly. Where to hit- Roll House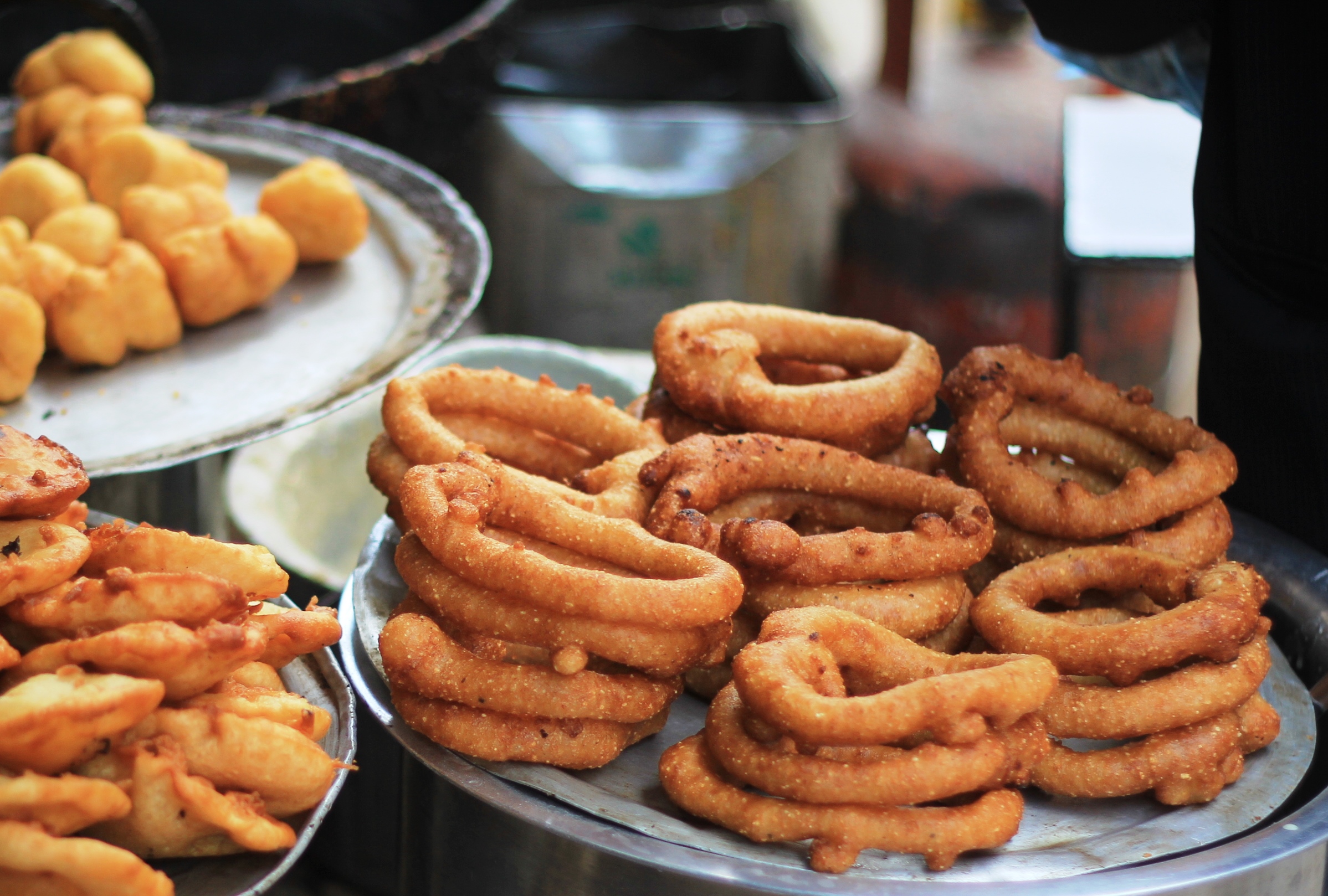 Laphing
- When in the hills we always opt for hot food, have you tried cold Noodles? If not, try having this local Tibetan Street dish here in Sikkim. These super spicy cold jelly-like broad noodles wrapped with fillings of chicken and veg and cheese are so mouthwatering. The combination of chills in food and the cold weather is a moment to fall in love with. As the name sounds, don't just laugh out Laphing keep calm and have some Laphing. Where to hit- Kelly's Cafe
Sekuwa
- If you are a hardcore lover of meat, don't leave Sikkim without tearing apart a piece of locally roasted meat called Sekuwa here. The local barbeque must follow you whether camping, trekking, or simply having a bonfire party with your buddies. Open skies surrounded by mountains and some Pork Sekuwa on fire. My friend! you are already having one memorable cloud nine moment in Sikkim. The restaurants in Sikkim will also gladly serve you the best of local grilled meat of chicken, pork, and beef. Where to hit- Matcha &Matcha
Thenthuk-
After tiresome sightseeing when you curl up in your cozy hotel room, order Thenthuk to keep your dinner sorted. Pamper your taste buds with this Tibetan noodle soup with vegetables, meat, or both, to which little pieces of dough are put and cooked alongside the stew. It's a simple, light, tasty dinner to revive yourself for the next day. Where to hit- Nimtho
Tongba
- We spoke a lot about food, how about something to drink? Local beverages in the hills are all together with a different ball game. Wish to experience vintage-style drinking in Sikkim? Give Tongba a try. A local millet-based mild alcoholic beverage found in the eastern mountainous region of Nepal and the neighboring Darjeeling and Sikkim. It is served in wooden jars sipped with the help of a bamboo pipe or wooden straw giving the feeling of a Viking. You don't get drunk traditionally on Tongba, but you feel incredibly chilled and mellow. That's what a vacation is all about right? So! Let the journey begin with a gulp. Where to hit- Absolute Demazong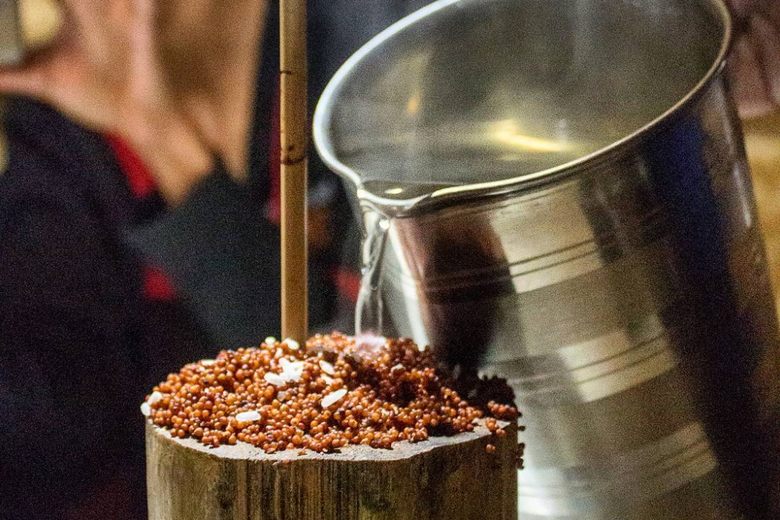 Himalayan Breakfast
- The most prolific moment of a tour in the hills is a magnificent view and local breakfast. Himalayan breakfast sounds so royal, right? Start the day with the goodness of Homemade Tibetan phaley served with eggs of your choice, along with hot spicy potato and Tibetan butter tea. Surely! your Instagram just cannot miss out on this story. Let's do some justice to the #eat sleep repeat mode. Where to hit- The Coffee Shop
Tingmo with Dry Pot beef
- Ask any hard-core meat-lover and they will swear by their love for red meat. When on a holiday you cannot skip this irresistible combo dish. Dry Pot beef is slow-cooked pot in a mixture of easy-to-find Asian-style flavors, including soy sauce, vinegar, honey, ginger, celery seeds, crushed red peppers, and scallions. You must club it with Tingmo, a traditional Tibetan bread that belongs to native Sikkim. Where to it- Dragon Wok.